Keeping folks around to drink more beer is pretty much the name of the game. But we also want to give them a great experience while they are there so they'll come back and promote the brand. Games are a good way to keep groups of 2 or more people sticking around the brewery. Sure they might make good conversation, but patrons love to have fun too! So what are some good games that
you can offer. The list is broken out into two parts depending on the size of the taproom; the smaller the taproom, the more limits you have on space to offer certain types of games. Your budget also comes into consideration here. So if you are wondering, "What are good taproom games for a brewery?", here is a short list for you.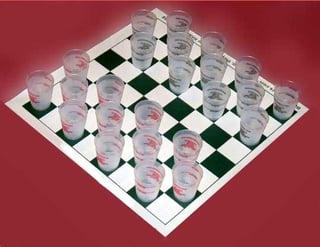 Small Space Taproom Games for Breweries
♠ Darts - a classic offering. It gets patrons moving around and can be pretty intense at times. Its a game skill and can be played in teams too, which is always great if there are 2-4 people. It's also not that expensive to purchase and install and there are many options including personalized dartboards and professional sport team specific if you have a specific theme or following in the area.
♠ Jenga - Jenga can come in it's original size, but it gets real fun when the over sized blocks are used. This game consist of starting with a tower of blocks that are stacked with a goal of removing one block at a time and replacing that block on top of the tower…without letting it fall. Whoever makes the tower fall, loses. The is also perfect for teams and can get super intense and challenging…especially after a flight of beer!
♠ Jenga variation (as a drinking game) -
Turning it into a drinking game is where Jenga becomes super interesting. Each block has multiple sides with phrases written on them. Each phrase is a rule or specific action taken if it is picked. So along with the balancing portion of the game, there is an action that each people has to take to execute their turn. And some of the rules are pretty interesting. Here is a list of rules to add to the jenga block tiles.
♠ Boardgames - Ahh board games. There are so many to chose from and many can evoke nostalgia from years past. Board games are great taproom games for breweries because they can keep folks entertained from 15 minutes to hours. Checkers, Chess, Life, Hungry Hungry Hippos. Scrabble. Hint: determine what to offer based on what your clientele would enjoy.
♠ Playing Cards - American playing cards and UNO are two great offerings to have in the taproom. You can keep multiple sets and they are relatively cost effective. There are also interesting card
drinking games
if you're looking for ideas.
Large Space &/or Outdoor Taproom Games for Breweries
♠ Cornhole - Cornhole can be played inside or outside and will keep customers busy for a while. Its pretty slow paced so they can eat a sandwich at while they play too.
♠ Horseshoes - Horseshoes required an actual court and steak driven into the floor as well.
♠ Ring Toss - Similar to horseshoes, ring toss is a great offer since it can be as involved as having a court like horses or as simple as plastic components.
♠ Bocce - Another versitile offering, Bocce can be played on a designated sandstone court or just plan grass. The ball set many times comes in a mini briefcase, so it's easy to store and it is also pretty slow paced so food and drink are acceptable during play.
♠ Beer Pong - the pinnacle of games to play, beer pong would be a legendary offering to offer. You may even want to think about hosting a tournament...
♠ Pool tables - The only problem with pool tables is they they are pretty damn permanent. If you have the extra space to dedicate, then go for it, but don't plan on moving it anytime soon. #heavy. You can probably find great used options on Craigslist.
♠ Spike Ball - this may be more of a fad and better at an outdoor event, but the game is easy, physical, and team based so it would pair well with beer.
♠ Frisbee - easy to store, logo, and cheap, a frisbee is a pretty dispensable as well. If they disappear, you're talking $12-$15.
♠ Arcades - If you invest in a game console (X-box, Wii, ect.) and TV for the taproom, you'll also need seating and a monitor go to with it. Arcade units are also pretty immobile and expensive.
♠ Table shuffle-board - A
lso very popular in taprooms and bars around the country, table shuffleboard is more mobile than a pool table, but still semi permanent. They offer hours of fun and can be a tournament style game with many teams involved.
As you can see, you have many choices and there plenty more that aren't on this list. Get creative with the space you have and the feel you want to portray. With space limitations and budget in mind, you can mix up what you offer, but make sure you have plenty of cozy seating.
If you liked this article and found it helpful, please share or feel free to comment below!